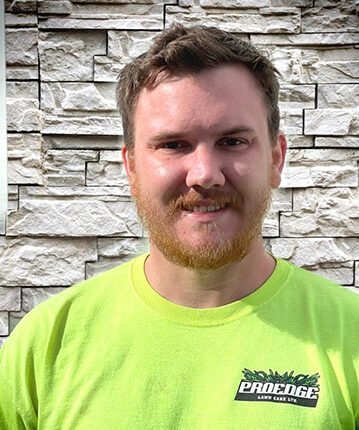 Erich Schroeder joined the Pro Edge Lawn Care Team in 2021 as our Project Crew Leader. In his current role, Erich is responsible for various enhancement projects, including mulch installation and property clean up. In the winter months, Erich is also one of our snowplow drivers.
Erich's credentials include experience in equipment maintenance, heavy machinery including the Loader and Bobcat, as well as workplace safety.  Erich is also responsible for training our seasonal labor team on proper mulch installations and stone projects using the Mulch Mate, Skid Steer, and Loader as well as hand tools which requires on the job training of new hires. 
Erich is from the Perrysburg Ohio area and grew up on a small farm. Prior to joining Pro Edge, Erich's work experience also included: STNA and Environmental Field Tech. In his free time, Erich enjoys reading and spending time with his family.
I like that I get to work on different projects instead of doing the same thing day to day.
Having adaptability is a critical value that drives me.
Join the Pro Edge Lawn Care Team
Want to join our team? We would love to have you as the newest member of our crew. Discover the benefits of becoming a Pro Edge Pro and apply today. To apply, please follow the link below to create an account and apply for available positions within our hiring portal. If you have any questions please do not hesitate to contact us.