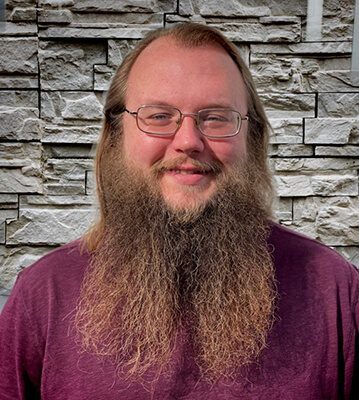 DJ Wells joined Pro Edge in 2014 and soon found a home here as our Landscape Department Crew Leader. In his current role he is responsible for caring for the health and beauty of our client's flowers, bushes, and other plants.
DJ is also responsible for the beautiful seasonal décor displays that we offer as an additional enhancement to your businesses landscaping. His beautification responsibilities do not stop there, he is responsible for the set up of holiday light displays that we offer as enhancements to our maintenance agreements.
DJ's credentials include being licensed by the Ohio Department of Agriculture as a herbicide applicator.
DJ grew up in Holland Ohio, enjoys Table-top gaming, including D&D and Magic the Gathering. DJ is also an active member of the Society for Creative Anachronism.
I enjoy spending days outdoors, improving garden spaces, and watching plants grown and thrive under my care.
I strive for quality and beauty. At work this means every property I work on becomes a personal project with a personal stake in pride.
Join the Pro Edge Lawn Care Team
Want to join our team? We would love to have you as the newest member of our crew. Discover the benefits of becoming a Pro Edge Pro and apply today. To apply, please follow the link below to create an account and apply for available positions within our hiring portal. If you have any questions please do not hesitate to contact us.