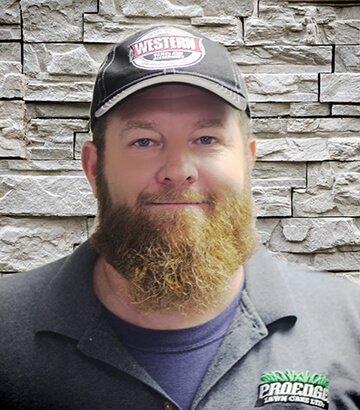 Mike Walen has been with Pro Edge Lawn Care since 2017. He celebrated his 5-year anniversary here in April of 2022 and we are so very happy to have him as part of our team. Mike is currently one of our Mow Crew Leaders and resident "Jack of Many Trades".
Mike has over 20 years of experience in the lawn care industry, including 12 years as a Crew Leader. Mike's specialties include equipment and general maintenance. During the off season you will usually find Mike working on equipment in the Pro Edge Lawn Care Shop.
Mike is from the Swanton Ohio area and enjoys country living, older friends, barbequing and working hard to make money. Mikes favorite quote is "Every day can't be your first day". Mike enjoys the simple things in life, spending time with friends and family on the weekends.
Family is very important to me. I love to make them happy and being able to provide for my family.
Honesty & Reliability are the biggest values that drive me. I want not only my employer, but anyone in my life to be able to have trust in my judgement and actions, as well as know that they can always count on me to fulfil my obligations.
Join the Pro Edge Lawn Care Team
Want to join our team? We would love to have you as the newest member of our crew. Discover the benefits of becoming a Pro Edge Pro and apply today. To apply, please follow the link below to create an account and apply for available positions within our hiring portal. If you have any questions please do not hesitate to contact us.