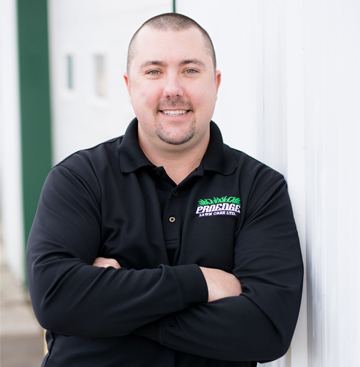 Tony's main roles at Pro Edge are the General Manager, Account Manager, and Sales. As the GM it is my responsibility to be available for my team, make certain we are following the financial plan, and growing. As the AM it is my responsibility to be available for our clients, make certain we are upholding our promises to them, and exceeding their expectations. As the sales professional, it is my responsibility to identify ideal clients, have conversations to determine if we are a right fit for one another, and provide solutions for their needs. Throughout my 25 years I have gained valuable experience from mentors, coaches, and implemented industry systems to evolve and grow every day.
Tony grew up in South Toledo where he attended St. Patrick's of Heatherdowns and then Maumee High School, and graduated from The University of Toledo with a Bachelor degree in business. Tony credits his parents for instilling a great work ethic, and money management skills. In his free time, Tony enjoys spending time with his family doing mini getaways, playing golf, coaching basketball and taking his dog on walks.
I enjoy the people, and the relationships that have built over the 25+ years. I don't consider it "work", it's doing what I love every single day. I enjoy the evolution of our team growing into their roles.
Reliability and trustworthiness. Without these two values, I feel it impossible to be a great leader. If I have promised something to someone, I'm going to do whatever is needed to come through. "Show me, don't tell me"
Join the Pro Edge Lawn Care Team
Want to join our team? We would love to have you as the newest member of our crew. Discover the benefits of becoming a Pro Edge Pro and apply today. To apply, please follow the link below to create an account and apply for available positions within our hiring portal. If you have any questions please do not hesitate to contact us.